Time gives wine its fourth dimension:
explore bottles carried to their finest
and best through slow maturing
Wines at the height of their potential
Who hasn't dreamed of tasting a wine when it's at its absolute best, when the liveliness and spark of youth have given way to the fullness of maturity? This is the moment when a Grand Cru reveals its true complexity, where powerful and smooth come together to give harmony and balance, even tertiary aromas that promise a completely different dimension.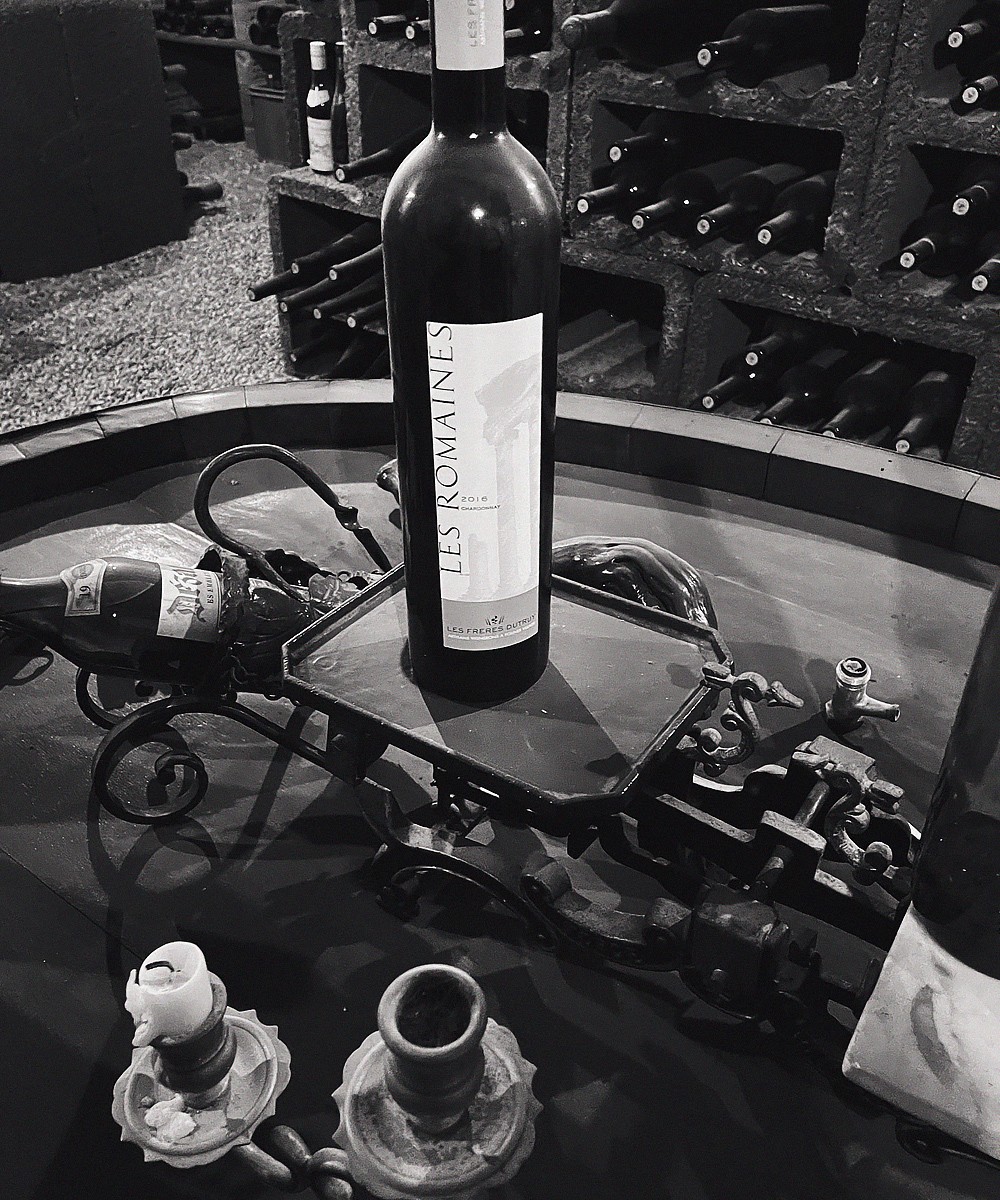 This means having set aside a small supply and keeping these precious bottles in a suitable space. Realizing that your good storage options can be limited, Frères Dutruy has put together a special collection, the best of their best wines, which unfold gently in an underground cellar that offers the ideal aging conditions: a constant temperature of 12C with humidity permanently at 80%, sheltered from light and outside stresses.
We would like to invite you to enjoy these gems that have been patiently aging, slowly reaching their apogee.
Please send us your requests and we will provide you with our prices. ( • = wine available)
WINE

VARIETY

YEAR

RÉHOBOAM
450 CL
MATHUSALEM
600 CL

Pinot Noir Cuvée Spéciale
YEAR

BOUTEILLE
75 CL
MAGNUM
150 CL
JÉROBOAM
300 CL
YEAR

BOUTEILLE
75 CL
MAGNUM
150 CL
JÉROBOAM
300 CL
YEAR

BOUTEILLE
75 CL
MAGNUM
150 CL
JÉROBOAM
300 CL
Les Romaines
Pinot-Gamaret-Garanoir
YEAR

BOUTEILLE
75 CL
MAGNUM
150 CL
JÉROBOAM
300 CL
YEAR

BOUTEILLE
75 CL
MAGNUM
150 CL
JÉROBOAM
300 CL
YEAR

BOUTEILLE
75 CL
MAGNUM
150 CL
JÉROBOAM
300 CL
Expression de terroir

Pinot Noir cuvée Spéciale
YEAR

BOUTEILLE
75 CL
MAGNUM
150 CL
JÉROBOAM
300 CL
Expression de terroir

Chasselas cuvée spéciale
YEAR

BOUTEILLE
75 CL
MAGNUM
150 CL
JÉROBOAM
300 CL
Expression de terroir

Merlot Cabernet Franc
YEAR

BOUTEILLE
75 CL
MAGNUM
150 CL
JÉROBOAM
300 CL
Benoit Violier

Gamaret Sélection
YEAR

BOUTEILLE
75 CL
MAGNUM
150 CL
JÉROBOAM
300 CL
__A history of respect
that of two men tied to their land
to create excellence__
Julien Dutruy & Christian Dutruy